Think of a situation when you lost your key, or you are unable to unlock the door after a hard day at work, and you are sitting out in the cold. It is a pathetic situation but might take place in any one's life. For all the South Yarra people, the Locksmith South Yarra comes to your rescue whenever you are in such a problem. One and Only Locksmiths Melbourne offer South Yarra Locksmiths services and is proud to offer a prompt, professional and competent locksmith service that caters to all your security, safety and lock needs.
Range of Locsmith Services in South Yarra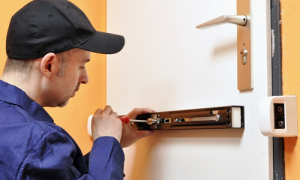 We offer a comprehensive range of locksmith services, ranging from lock repairs and key making service to the latest electronic locking systems, mortise locks, and security safes. We have always incorporated the latest technological innovations in the locksmith services industry to provide state of the art security, but have not overlooked the basics of quality and friendly service.
Our range includes repairing or replacement of your door locks if required. Are your home locks vandalised after a break in? Then, do contact our South Yarra Locksmiths services for a free quote to fix the problem. Even if your locks have just worn out, One and Only South Yarra Locksmiths Melbourne can replace your residential or commercial locks and even put them back on to the same key. It suits your original key, so you are not left carrying extra keys. From window locks, mortice locks, and security locks in different colours, our South Yarra Locksmiths services also supply deadlocks, and window lock so you can have a master key that opens all locks.
We can help you create a central locking system or spare keys for your locks so that if one key is lost, you can make use of the other keys to open your house or office. We always aim to reduce the number of separate keys that you may have for your house and office. For protecting your jewellery, cash, data or even heirlooms, our local Locksmith South Yarra can suggest the best safe based on risk, insurance specifications, and the items that you wish to protect.
Why choose us??
We offer 24 hours round the clock residential and commercial locksmiths services for all your needs. Our technicians are mobile and can reach your venue quickly without fail. All our Locksmith South Yarra technicians carry state-of-the-art and advanced solution kit so that you don't need to wait at any time, even if it is about changing the lock completely and replacing it with a new one. The technicians offering South Yarra Locksmiths services are all licensed and insured that makes them highly trustable and reliable.
Our excellent friendly services with supreme quality products and tools make us stand apart. Whether you need locksmith services at regular time or the after hours, our Locksmith South Yarra are highly experienced to deal with any kind of locking issue at any time and place.
We regularly petrol and service Clifton Hill, Doncaster, South Yarra, Malvern and Glen Waverley.